THIS, IS A LENS….
A sense of frustration and mystification was the cause of the creation of The Big Magnifying Glass of Wy by Prince Paul. 
 How could these bureaucratic errors keep happening?  Just when he felt that the family were about to achieve the legitimate goal of access to their home another obstacle appeared in their path.
He half jokingly speculated . "What we need is a very big magnifying glass to keep a close eye on council.  To identify mistakes."  
He knew that there was a wide distribution around Australia of "Big" things like the "Big Banana" and the "Big Sheep" or rather the "Big Ram" which he  had visited and parked his car behind,  a location that had provided a salutary and monumental view.  
So he embarked on the construction of the Big Magnifying Glass of Wy.   A shiny chromium steel table leg provided an excellent handle and an aluminium boat hatch rim provided the lens holder.  All the elements were joined together and "Hey Presto."   The Big Magnifying Glass of  The Principality of Wy was created.
ON CROWNS
The Equerries were most impressed and photographed Prince Paul, not in a Sherlock Holmes style Deerstalker Hat, but in the Summer Crown of Wy, which has a wide brim to shelter the Prince from the harmful  rays of the Australian sun.  The Equerries have done considerable research and concur that this is the first crown of its type in the world and believe it should receive endorsement from the Cancer Council.  
 The Prince however finds it a little top heavy and inclined to fall off. 
Paul has a collection of Travelling Crowns which can be slipped into his breast pocket, rather like a bulky folded handkerchief.  He prefers these foldaway crowns for day to day use should a little impromptu  formality be required as he goes about his duties around The Principality.  
A serious game of chess or billiards may require a little bit of dressing up.  The Prince is quite relaxed about formality. He was asked in his city club, by the Secretary, at the time of secession, how he would like to be addressed by the stewards.  Prince Paul, ever the egalitarian, insisted that there be no fuss.  The secretary tentatively enquired whether "Prince Mate" would be alright.    The Equerries though that this was a trifle presumptive.   
The couturier in the Prince expresses itself effortlessly in garments of grace and practicality. The Prince is inclined to favour coolness in both the costume of ladies and gentlemen and suggests that the classical toga could be on the horizon, at least for beachside suburbs.
Equerries have noticed that around Mosman, fashion leading matrons and in some cases their daughters have been favouring garments with a distinct Wy flavour.  
Because the Prince prefers flowing garments there is a certain non sexist androgynous style in his creations which is appreciated by those for whom intellectual passion is the prerequisite desired catalyst for romantic engagement.
THE SERENE WY T 
The elegant Principality of Wy T shirt, an economical, yet priceless,  fashion statement  which bears a signed self portrait of Prince Paul, is very popular with both ladies and gentleman, when it is available.
Created in pure cotton it comes in all sizes, especially XL and 3XL.   Artists in The Principality have been known to use use the larger sizes as practical painting smocks.   
This is where they put the U into Unique
Equerries inform that, regrettably, due to demand, the above tantalising creations are currently unavailable. Should you wish to be placed on the waiting list please send an email entitled "Serene Wy T" via The Equerry.
---
Sky News reports on Principality of Wy May 23rd 2010
Also seen on Chanel 7 Sunrise Morning Program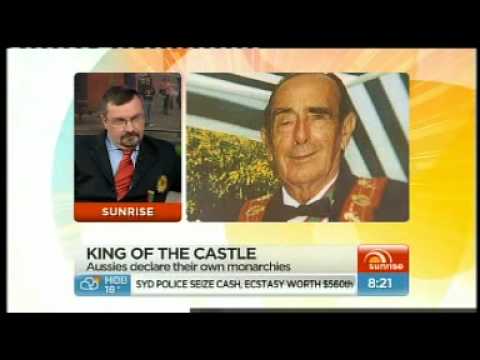 ---
"
THE SERENE WYCYCLE" IS THE SYMBOLIC GOLDEN VEHICLE OF WY
ONLY TWO WHEELED VEHICLES CAN CURRENTLY ACHIEVE ENTRY TO THE PRINCIPALITY.  UNTIL AN ACCESSWAY IS BUILT FOUR WHEELED VEHICLES, SUCH AS "THE SERENE WYMOBILE", CANNOT ENTER THE PRINCIPALITY
On Nov 15th 2004, after 11 years of delays and extraordinary bureaucratic errors in processing a simple application for an access driveway, Mosman Council, solely citing "changed community views", refused the application and as a result cut off the property of artist Paul Ashton Delprat and his family from their frontage and sole road access.  All legal requirements had been totally satisfied.  As a result the family has seceded from the Municipality of Mosman.
Subsequently in a Ceremony in front of national media the Mayor of Mosman in full regalia graciously accepted our Decree.  The Principality has seceded solely from Mosman and not from NSW nor the Commonwealth of Australia.  The name of the Principality of Wy is taken from neighbouring Wyargine Point.
THE SPECTACULAR VEHICLE OF THE PRINCIPALITY OF WY CREATED TOTALLY FROM RECYCLED MATERIALS
THE SERENE WYCYCLE OF WY
A Serene work of mobile art created by Prince Paul of Wy was exhibited for the first time as part of The 2005 Festival of Mosman.  Upon receiving an invitation from Mosman Council, Prince Paul spoke and exhibited "The Serene Wycycle" at 10.30 am Sunday 11 Sept. at Speaker's Corner near the Balmoral Rotunda.   "Spontaneously responding" says Prince Paul, "to this gesture of friendship from Mosman Council, we note with relief that Councillors recently voted almost unanimously NOT to remove our sole road frontage.  We look forward hopefully to four wheeled "Wymobile" linkage to Mosman in the future."
To quote the letter of invitation :  "This is a chance to be part of a spectacular vehicle for impromptu free speech….
"The spectacular Wycycle is the sole means of wheeled transport in and out of the Principality proper into neighbouring Mosman, which Prince Paul likes to think of nostalgically as "Wider Wy".  "It is not a Trojan Horse",  he says, "I am presenting it simply as a salutation to the decent gentlefolk of Mosman.  Built as it is from wholly recycled materials, it is an ecological counterbalance to those individuals who recently accused these good people of excessive wastage."
"The Principality of Wy was chagrined to read in the press about Mosman's large Ecological Footprint.  We of Wy deplore the base snickering from the mouths of, no doubt, envious others. "The Principality has, by necessity, a very small footprint and we are happy to advise Mosman Council on how to lower the consumption threshold."  A ground-breaking start could be to provide genteel bicycle tracks and to remove all driveways and all roads, preferably by planting them out with approved native plants."
REWYCYULAR ART  
The following description of "The Serene Wycycle" is republished with permission from Principality of Wy Fine Art Journal: "A mixed metaphor of seeing and riding, speed and stillness, significance and insouciance. Surreal juxtaposition is achieved with quirky couch/saddlery and brilliant gilt framed vernacular."
Equerry                                                                                                                                                                                                                                                                                                                                                    Historic
Archaeological Relics                 DIRK HARTOG'S EAR TRUMPET
Not all the objects that are presented to Prince Paul to be combined into sculptural creations are suitable for that purpose.  Some, possibly, have great significance in their own right.   Dirk Hartog's ear trumpet is a good example.
Dirk Hartog,  the famous Dutch explorer disappeared for six months after leaving an inscribed pewter plate, disclosing his presence, on an island off the Western coast of Australia in 1616.
A well preserved, inscribed wooden artifact was recently discovered in a cave in The Principality of Wy.  
Archaeologists are aware of the tradition of wooden objects of apparel, such as footwear,  favoured by the Dutch and believe that this rough hewn object, which appears to be the remains of an ear trumpet, follows this same practical tradition.
The relic is inscribed, perhaps by a crewman or even Captain Hartog himself, with the name "Dirck Hartische" and "Eendracht", which was the name of Dirk Hartog's vessel of exploration.  
The Prince is interested in this possibly momentous discovery, as he has Dutch ancestry.  He is appointing a Serene Commission to look into it .  
There is also a  map incised on the "ear trumpet" which seems to locate the Principality of Wy.  Historians are excited by this and it has been proposed that there is a possibility that the discovery of the Principality of Wy may predate that of Australia itself .
Research is continuing.
Equerry
---